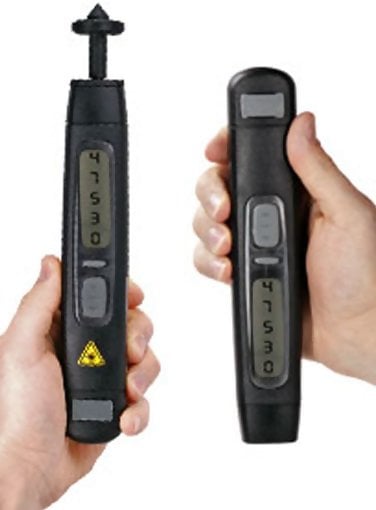 ---
The Compact A2103 Advent Professional Handheld Tachometer is fully featured including5 digit LCD inverting displaywith legends for all functions and measurement parameters, selectable ranges for revs, meters, feet, yards per minute or per second. With additional features including maximum, average and minimum reading capture, last reading hold, count revs or length & time modes.
A2103-LSR-001 - Multi function Optical/Contact Counter, Timer & Speed Sensor with signal output facilities.
This model is a very versatile dual purpose instrument, operating both as a multirange Optical or Contact Tachometer, Counter, Timer or a self powered remote Optical Sensor for machine monitoring requirements.
A TTL type pulse output facility and camera tripod mounting bush are standard features, designed for both hand held and fixed situations for monitoring continuous and occasional speed of machines.
Signal Output features - Model A2103-LSR-001
Pulse Output facility - 5v Pulse output. Output via socket on rear of housing, supplied with 2 metre BNC output cable.This model has these additional features.
Compact A2103 Advent Professional Handheld Tachometer
Reflective Tape

Certificate of Calibration
Instruction Manual
Carrying Case
Compact A2103/LSR Optical-Contact Laser Tachometer
Reflective Tape

Certificate of Calibration
Instruction Manual
Carrying Case
Compact A2103/LSR/001 Advent Professional Handheld Tachometer
Pulse Output
Reflective Tape

Certificate of Calibration
Instruction Manual
Carrying Case
Compact A2103 Advent Professional Handheld Tachometer
Optical Range: 50mm 1000mm
Optical Angle: 45 degree
LED Light Source
Maximum Speed: Captures maximum speed
Minimum Speed: Captures minimum speed
Fast Time-base: 0.1 seconds in Capture mode
Average: Averages over last 8 readings
Compact A2103/LSR Advent Professional Handheld Tachometer
Optical Range: 50mm 2000mm
Optical Angle: 80 degree
Red Laser Class II 635nm
Maximum Speed: Captures maximum speed
Minimum Speed: Captures minimum speed
Fast Time-base: 0.1 seconds in Capture mode
Average: Averages over last 8 readings
Compact A2103/LSR/001 Advent Professional Handheld Tachometer
Optical Range: 50mm 2000mm
Optical Angle: 80 degree
Red Laser Class II 635nm
Maximum Speed: Captures maximum speed
Minimum Speed: Captures minimum speed
Fast Time-base: 0.1 seconds in Capture mode
Average: Averages over last 8 readings
Pulse output facility
Tripod bush
Signal output cable
Remote on/off via cable
| | |
| --- | --- |
| Speed range | 3 to 99,999 rpm and rps |
| Resolution | max. 0.001 (auto) |
| Accuracy | 0.05% +/- 1 digit |
| Update | 0.8 sec |
| Capture | mode 0.1 sec |
| Count | 0-99999 units |
| Time interval | 0-99999 secs (autoranging) |
| Memory | Holds last reading 1 minute |
| On target ind. | Yes |
| Low battery ind | Yes |
| Power | 4x AAA batteries |
| Contact Adapter | Supplied |
| Carrycase | Supplied |